Becoming a T Level ambassador
If you're enthusiastic about the benefits of technical education, you can promote T Levels and industry placements by joining the T Level Ambassador Network. As a member, you'll be giving T Levels your endorsement. That will help raise awareness and ultimately lead to better opportunities for businesses and young people.
Introducing the T Level Ambassador Network
The T Level Ambassador Network helps build T Level understanding and engagement in the business community. It has over 400 members who are advocates for technical education and have a key role in bringing industry and education together. Members including employers ranging from large businesses to SMEs, providers (primarily colleges with some schools), universities, students, and other organisations including ERBs/LEPs.
What does an ambassador do?
Using your influence and personal connection with T Levels, as an ambassador you will encourage employers and young people to take advantage of the opportunities T Levels, and more broadly technical education, can offer.
Ambassadorial activity is delivered under 4 key areas; storytelling, signposting, celebrating and insight. Within each area you will be able to support the messaging by; sharing best practice; endorsing key messages; attending events, providing insight and much more. You'll probably find that most of the asks of ambassadors you'll already be doing as part of your current role.
We also ask you to record and share with us what you've done via our exclusive T Level Ambassador Network Mobile App. The app also allows you to stay in the know with all the latest updates, news and have access to T Level resources in the most convenient way.
What does the network do?
The T Level Ambassador Network brings together individuals who can advocate for technical education and the benefits of hosting industry placements.
Network Chair, Ray Olive talks about the importance of T Levels;
"Young people can bring a huge amount of innovative thinking, which is what businesses need to thrive. However, for many young people, finding their route into skilled work is hard. They don't know where to start and which qualification would be best for them. T Levels offer that combination of practical industry experience, alongside academic development.

"Because they are designed by employers, it means young people complete their qualification and are 'industry-ready'. It offers many more young people, many of whom have faced barriers to getting a good job, a route to a brighter future."
Meet the leadership team
Launched in April 2019, the network has gone on to enlist an inspiring leadership team.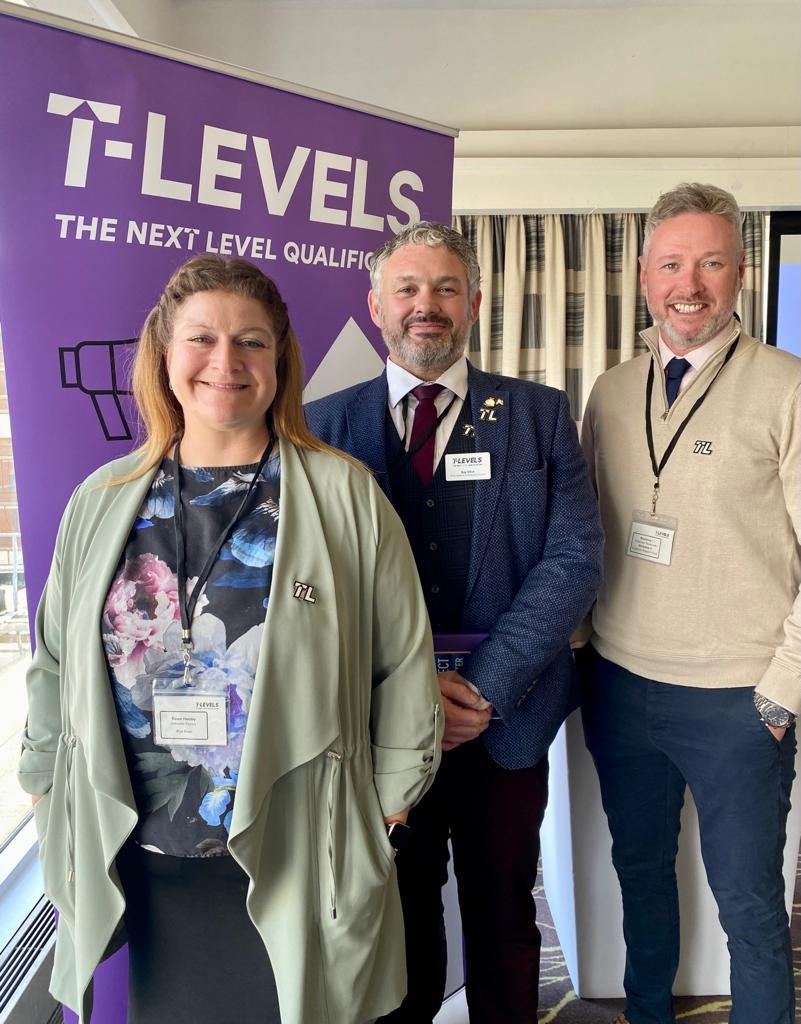 (from left to right: Dawn Helsby, Ray Olive, Danny Brett)
Ray Olive, Ambassador Network Chair
Assistant Director of People and Organisational Development at University Hospitals Morecambe Bay NHS Foundation Trust (UHMBT)
Ray chaired the national panel for the Engineering and Manufacturing, Maintenance Installation and Repair T Level, developing the content and requirements for this qualification in conjunction with a group of senior employers, the Department for Education and the Institute for Apprenticeships and Technical Education. Ray has been an ambassador since the Network was launched.
Ray's experience of designing and developing T Levels has seen more than 60 young people so far gain industry-specific experience in a range of healthcare roles, from nursing to maintenance and engineering. UHMBT has further committed to offering up to 100 young people in each academic year the chance to work within the Trust to gain their industry experience.
Danny Brett, Ambassador Network Vice-Chair
Former Deputy Chief Executive and Principal (Curriculum and Quality) at York College. Currently working across the education sector leading a wide range of educational research and development projects including those linked to innovation and collaboration in the FE sector as well as leading large scale LSIP / LSIF projects, as some examples.
Danny has been involved with T Level development from the outset and has remained a key advocate for the programme. Danny has supported a wide range of regional and national events in relation to T Levels and in support of:
multiple Local Enterprise Partnerships
the Department for Education (DfE)
the Education and Skills Funding Agency (ESFA)
the Association of Colleges (AoC)
and the Education and Training Foundation (ETF).
Danny is also part of the AoC National T Level Strategic Leadership Group.
Dawn Helsby, Ambassador Network Vice-Chair
Currently Early Careers Development Officer at Schneider Electric (Global Operations).
Dawn has only recently taken up this new role, having previously worked at North Warwickshire and South Leicestershire College as a Student Employability Manager. Dawn joined NWSLC college in 2013 as a lecturer and was leading two teams of employability coaches and industry placement coordinators based at 4 of the college's campuses. Building relationships with employers, helping students to find work experience and industry placements, developing their employability skills, and coaching students on placements is a key part of the college's preparations for T Level delivery. Dawn has been a T Level Ambassador since September 2019.
Find out more and become a member
If you want to inspire and influence people in business and also individual success, become a T Level Ambassador today. Click here to complete the commitment statement and one of the team will be in touch to welcome you to the network.
If you're still undecided and want to find out more before signing up, please email the Ambassador Network Team
If you want to connect with employers offering T Level placements in your local area, please contact tlevel.delivery@education.gov.uk
Last updated: